I'm turning this week's trends into writing prompts for myself and any readers this blog may have.
A good contemporary fantasy would be the reaction of traditionalists when a magic school digitizes its collection of arcane works though Dúchas.ie has many willing contributors in real life.
National Folklore Collection, University College Dublin and Dúchas.ie
It would be ambitious but what about a scifi series where time travel is a respected tool of archaeology and not just a one time only event like Michael Crichton's Timeline? You could use various cultures, my focus would be on First Nations using it to verify land claims.
Before this discovery Heiltsuk in British Columbia only had their oral traditions to back their historical claims, now they have scientific proof.
14,000-year-old village unearthed on B.C. island by UVic student
Here's a 20% sample on Smashwords of the type of fantasy inspired by these recent trends : Kateri's Tales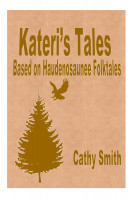 You can see which fantasy writing prompts I'm working up in the Khiatons Monthly/Update mailing list